A report says, 45% of Abu Dhabi schools need Significant Improvement. For past six years, there has been progress in the overall performance of many private schools but still they need to improve the quality of their education.
The Third Cycle Inspection Results for Private Schools report found that 82 of the 183 schools need to improve the quality of their education. The findings were released for the Abu Dhabi Education Council's Private Schools Annual Forum, and show a steady improvement between the first cycle of inspections in 2009 and the third cycle this year.
The inspections looked at schools across the UAE and found major areas of concern. Teaching and learning mathematics in primary grades in many schools was lacking and the report described "generally low achievement" in public and private schools. The report said, "Achievement in mathematics is significantly below international standards"
Hamad Al Dhaheri, Adec's executive director for private schools and quality assurance, he said, "The overall effectiveness grade improved for 69 per cent of private schools between cycle one and cycle three, which shows an improvement in the education system across private schools".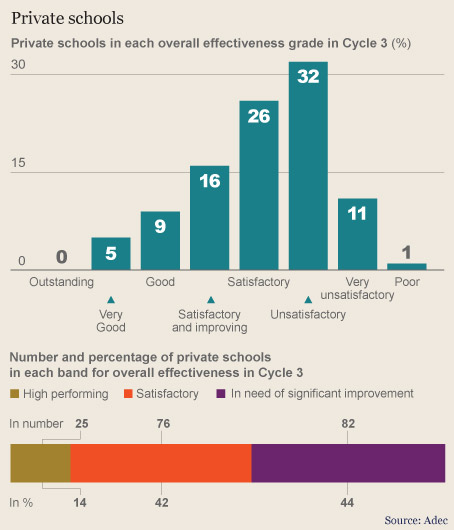 Complete article is available at www.thenational.ae