Midday break rule begins today; respite to thousands in the construction sector
Starting today 15th June 2015, companies have to give a two-and-a-half hour break from 12.30pm to 3pm to workers who work in open areas such as construction sites.
Dubai - The blazing heat of summer can take a toll on seasoned residents in Dubai, but not on construction workers who have to work enduring the scorching sun. However, from today, thousands of workers in the construction sector are set to work shorter hours as the midday break comes into effect.
Starting today, companies have to give a two-and-a-half hour break from 12.30pm to 3pm to workers who work in open areas such as construction sites. The rule will be in place till September 15.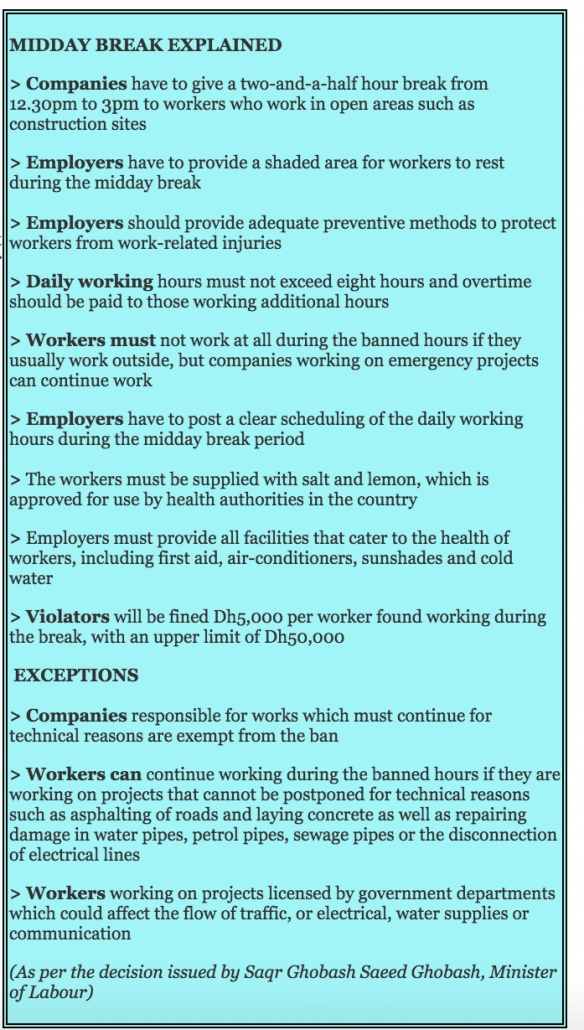 There are workers like Habib Ali, a 20-year-old from Pakistan, who will be experiencing the harsh sun of the UAE for the first time. "This is my first job. Earlier I used to be in Pakistan without any work."
Ali is experiencing his first summer as a construction worker in Dubai.
The young man spoke while he continued digging sand with his shovel to make way for a new utility pipeline at a construction site in Al Wasl.
"I cover my face while working because it protects the skin from direct sunlight. It gets a little warm with the cloth but my skin would get burnt if I don't cover it. I used to be a lot fairer but working in summer has changed the colour of my skin," said Habib.
Daytime temperatures hover between 45 to 50 degree Celsius and workers used to get a one-hour break before the longer mid-day break has come into effect.
Having spent eight months in the job, Habib knows his job all too well. A few water coolers and a home-cooked lunch are his only respite from the heat.
"It would be nice to start the midday break few days earlier because the summer has already set in. We continue to work bit-by-bit and the job can be demanding sometimes. You have to do whatever job is required that day on the site," added Habib.
A few metres away, Ahsanullah Mohammed Zaman operates a boom loader shifting construction material across the site.
"Compared to last year, this summer has been a little cooler. It isn't as bad as the last few years. The three hour mid-day break is extremely important and I usually finish my afternoon prayer and sleep comfortably," he said.
According to the Ministerial Resolution No. (443) of 2010, workers must leave the work site during the midday break unless their presence is necessary for safety reasons.
Furthermore, companies must display the rule in Arabic and another language understood by the workers.
"If the weather gets unbearable, a salt lemonade helps rehydrate the body quickly. Sometimes the foreman will also call off work if it gets too hot during the day," shared Ahsanullah, who hails from the Pakistani state of Gujarat.
Safety engineers are required to monitor the temperature on work site and companies violating the mid-day break are penalised. The Ministry of Labour conducts intensive inspection campaigns to catch violators.
Johnson George oversees the safety of 300 workers at a construction site nearby.
"Workers are happy with the midday break because the summer temperature peak over the next two months. We have all provisions for safety including a first-aid kit and sunshades. If any worker is not feeling well, we ask them to take rest under a shade," explained Johnson.
Maher Al Obed, assistant undersecretary for the Inspectional Affairs at the Ministry stated during a press conference held earlier, "This (midday break) is considered one of the most prominent and important initiatives, which handles preventive measures to protect workers from the risks of working under direct sunlight with extreme high temperatures."
He pointed out that the ministry has formed 18 squads to monitor the level compliance across the nation during the midday break period, plus distribute awareness leaflets to both employers and labourers to promote awareness.
Source: Khaleejtimes
Share this article