BCB Name PRO Partner Group as Preferred Partner in Abu Dhabi
British Centres for Business (BCB)) selects PRO Partner Group as 'best-in-class provider' for Abu Dhabi expansion
Since their launch in 2014, British Centres for Business (BCB) have successfully assisted with the set-up of over 28 British companies in Dubai. BCB now wants to offer the same special incubation platform for Abu Dhabi. They have therefore selected the PRO Partner Group as their preferred partner for their expansion programme into Abu Dhabi.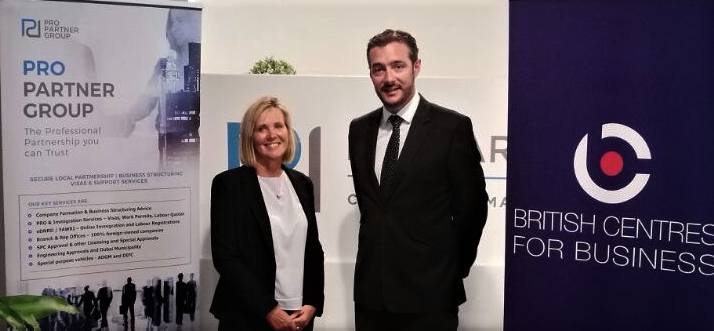 Joe Hepworth, CEO of British Centres for Business, and Jane Ashford, Managing Director of PRO Partner Group confirming the partnership
BCB's mandate is to provide operational support and market entry services in the UAE to British Companies. They work alongside the British Government to deliver practical assistance, guidance and orientation for British companies entering the region.
PRO Partner Group is one of the region's leading business formation and company set-up providers. PRO Partner Group facilitates all the procedures and legalities involved in establishing and maintaining a commercial entity in the UAE, from Commercial Registration to Professional Corporate Nominee Services and visas.
Jane Ashford, Managing Director of PRO Partner Group, states
"We are delighted to be selected as the best business formation partner for the BCB in Abu Dhabi"
Jane Ashford and the PRO Partner Group team have assisted in the formation of over 200 Limited Liability Companies, Representative and Branch Offices in the region, and have been recognised for their skills in providing high quality client services. Jane is focussed on bringing more UK businesses to the region to enable them to take advantage of this growing economy.
For further information on how to set up a British company in the UAE, contact:
T: +971 (0) 2 448 5120 (Abu Dhabi) jane@propartnergroup.com www.propartnergroup.com
Share this article