The use of social media and digital marketing for businesses in UAE
In today's digital era, social media marketing has become an essential business tool that no company can afford to miss out on, irrespective of the industry in which it operates. It enables you to build relationships with new and existing customers, increase brand awareness and promote products or services in a way that was previously impossible with traditional outbound marketing methods.
The UAE is home to one of the most mobile-friendly, digitally aware audiences in the world. 99.98% of the population are active social media users, spending an average of 3 hours per day using social media platforms. It is therefore incredibly important for any company based in the UAE to tap into this lucrative resource.
What are the main social media platforms in the UAE?
There are many platforms from which to choose when considering your online presence. Some of the largest and well-known ones with the greatest reach are Facebook, Twitter, Instagram, LinkedIn, YouTube, Snapchat, Pinterest and TikTok.
When choosing which ones to invest time and money into, you should always consider your business goals and your target audience. Different platforms will lend themselves to different types of audiences and media formats. Your business objectives will always determine where best to spend your time and resources.
You should establish specific goals that will be met with your social media campaign, then accurately track them with tools such as Google Analytics to assess their success and make any necessary adjustments to future campaigns.
The buyer's journey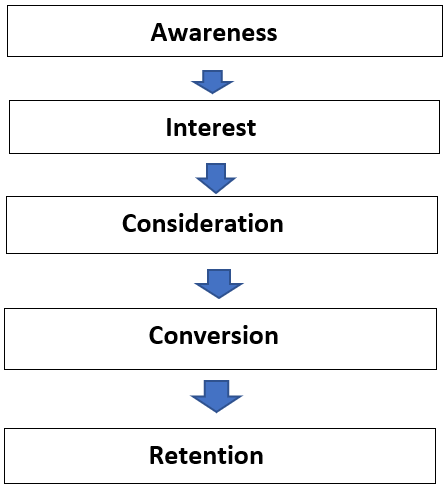 Social media marketing can help further business goals at every stage of the buyer's journey, but it has the biggest impact at the awareness and interest stage.
How will social media benefit my company?
Social media can benefit your companies in numerous ways, including but not limited to the following:
It can help you increase brand awareness.
It helps promote products and services.
It can increase traffic to your owned media such as your company website or blog.
It generates conversations around your brand which drive recall and awareness.
Enables you to address consumers pain points through social listening.
You can tell your brand's story which helps to humanise your brand.
It allows you to collect data from audience research.
It can assist with link building. By producing strong content, you encourage users to link back to your original content and then rank higher in the SERP.
It helps to drive conversions with CTAs (Call to Action).
How do I choose the best social media platforms for my brand and business objectives?
Facebook
Facebook is the largest social media platform with a large-scale reach. It offers a highly mobile experience which allows businesses to engage with consumers throughout the day. Its main users are millennials and older age groups.
Twitter
Twitter differs from other platforms in that it is very conversational in nature. It allows users to comment on events in real-time and is therefore excellent for sharing company news and product updates.
Instagram
Instagram offers a much more visual experience than other platforms and is ideal for sharing photos and videos that can increase brand awareness and building a group of followers and brand advocates. It also provides access to a younger audience than Facebook. It can therefore complement marketing efforts on Facebook to reach a much wider audience.
LinkedIn
LinkedIn is a business orientated social media platform which is more focused on business networking. It is ideal for recruiting, social networking and sharing corporate news. Content on this platform is more formal so it is important to use a similar tone with your communication.
YouTube
You tube is a video-based sharing platform with which you can create unique content that's easy to consume and share. It has more than a billion active users and can be accessed in 76 different languages, so it has the potential to be an essential tool in building an engaged and loyal audience.
How can PRO Partner Group help?
We have numerous connections with businesses all around the UAE, Qatar and Oman and can help connect you with experts in the field of digital marketing who can advise you on the best strategy for your business. If you need assistance on this or any other related company setup, restructuring, local partner or PRO support matter in Abu Dhabi, Dubai, the wider UAE, Oman or Qatar, then please do get in touch with us on +971 (0)4 456 1761 for Dubai or +971 (0)2 448 5120 for Abu Dhabi, email us at info@propartnergroup.com or complete the contact form below and we will be delighted to assist you.
Get in touch with Jade Wong
Share this article