What are UAE Mission Visas and How To Apply?
What is a Mission Visa in the UAE?
A Mission Visa is a type of permit issued for professionals who would like to come to the UAE to work with a local company for a specific short-term project. An employee is considered as a probationary worker under these types of visas.

How long is a Mission Visa valid for?
Mission Visas are based on a single entry to the UAE only and have a validity of 90 days (3 months). This means that any worker on a Mission Visa cannot exit the country until the end of the visa, if they do leave before visa expiry, the visa will automatically be cancelled and if they wish to return, the Mission Visa must be applied for again.
Can I apply for a UAE Residence Visa once my Mission Visa has expired?
Whilst the applicant is under a Mission Visa in the UAE, it is not possible to apply for a residence visa for the applicant since the mission visa will need to be cancelled and this is only possible once the visa holder has exited the country.

What is the application process for a Mission Visa?
It is important to note that the applicant must be outside the country to apply for a Mission Visa and must exit the country as soon as it expires. A second mission visa can be applied for the employee once they have exited the country and their labour card has been cancelled.
The process of applying for a Mission Visa can take up to 4 weeks to complete from applying for Mission Visa quota to receiving Labour Card and being able to begin work in the UAE.
What is the step by step process for a UAE Mission Visa?
Step One: Apply for a Mission Visa quota
Step Two: Once the quota is approved, apply for employee Mission Work Permit
Step Three: Application must be shared with the employee for signature
Step Four: The signed application is submitted for approval
Step Five: Once the Work Permit is approved, an application for the Mission Entry Visa is submitted
Step Six: Once the Mission Entry Visa is approved and standard issue Mission Visa Insurance coverage is awarded, the applicant is permitted to enter the UAE and obtain an entry stamp on the visa upon arrival
Step Seven: The applicant should share a copy of the stamped Mission Visa to the employer
Step Eight: A Labour Contract will be prepared, signed by the employee and submitted for approval
Step Nine: Labour Contract and Labour Card are issued.
Since Mission Visa Insurance is issued along with the work permit by the Ministry of Labour, it is not mandatory for employers to provide health insurance to their employees as is the process with regular residence visas. Neither is it compulsory for employers to register employees that are on mission visas with the Wage Protection System (WPS) and to pay their salaries via WPS.
What documents are required to apply for a Mission Visa?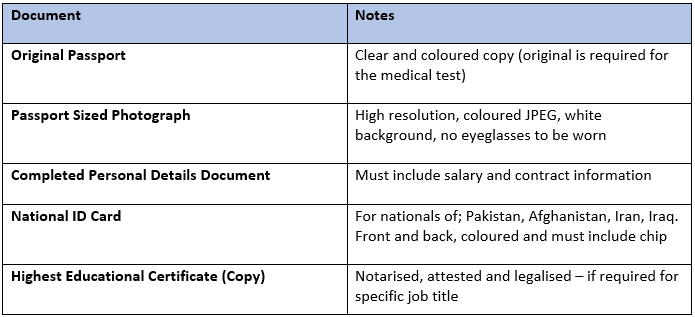 How can PRO Partner Group Assist?

PRO Partner Group can assist with all the steps for application of Mission Visas, for further information click here (or call us on +971 (0)4 456 1761 for Dubai or +971 (0)2 448 5120 for Abu Dhabi.
Share this article